The plan was simple: start a college club by and for homosexuals. My university already had an LGBTQ org with various sub-groups for bisexuals, exploring gender identity, and even the intersection of religion and sexuality. What it didn't have, and I felt it sorely needed, was a sub-group specifically for gay men and lesbians. We needed a club for homosexuals.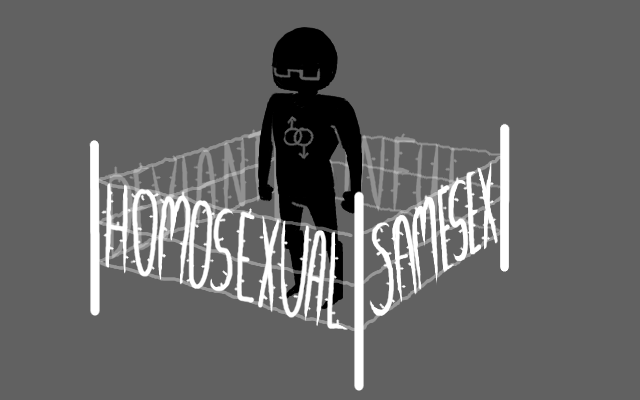 This was particularly clear during meetings which devolved into "genital preference discussions." More accurately, members questioned the moral goodness of an exclusive same-sex orientation. The grand finale featured a student standing on a table and loudly encouraging trans members to remember that "those who don't love you because of your body are wrong! They are shallow! The body changes, who you are inside does not." A warm and enthusiastic applause rose and fell. I left the room.
Over the following weeks, I advertised for my new club with signs reading "celebrating homosexuality." Our goal: affirming the complete moral neutrality of being homosexual. Anyone could join regardless of race, sex, creed, or gender identity. I made sure to highlight that trans students were welcome as full members, as long as they were homosexuals. The only factor bringing us together was an exclusive compatibility with the same sex. I knew that decision would be divisive. Ironically, the university LGBT org had become the last place anyone would loudly or enthusiastically discuss their exclusive same-sex attraction. But it wasn't everyone, and surely homosexuality – no matter how divisive – could not be discoursed into oblivion. Homosexuality, imbedded in the very foundation of all LGBT activism, could be celebrated freely and loudly despite its detractors. Unfortunately, I was wrong.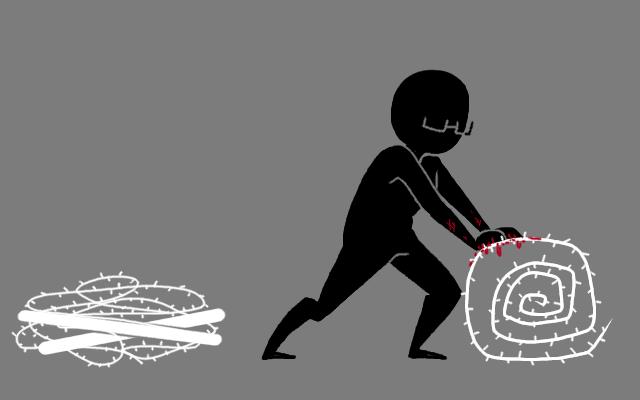 Initial comments were the usual and expected slogans. Posters were torn down and replaced with pieces of notebook paper reading, "Trans men are men! Trans women are women!" Confused emails reassured me that a group which "didn't exclude the most vulnerable members of our community" would be supported, but my language seemed to imply something more sinister. Again, I explained that homosexual trans students were welcome, to no avail. At least one suicide-bait floated through my inbox during the first two weeks. I was too busy replacing posters every other day to notice. The most memorable interaction took place during a campus movie night.
"You do realize," they asked, "that your club will not include the majority of lesbians on campus, right? Most of the lesbians in our [LGBT] org are trans."
"I understand," I replied. "And this group is for homosexuals. This group is still necessary. "
My coworkers and fellow org leaders did not agree. I was called into a formal meeting. Attendees included the org president, overseers from university student affairs, and the head of the entire LGBT affairs office. Everyone sat humorously interrogation-style, opposite to me in a large U-shape. "Homosexual on trial, accused of nefarious distribution of obscene literature!" I could hear the headlines as I settled into my chair.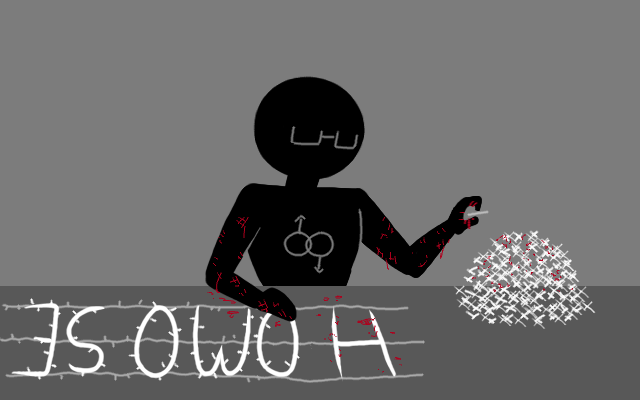 The discussion was civil, though I shook with nerves the entire time. My voice cracked as I explained the basis of my still non-existent group, my motivations, and why a group for homosexuals was necessary. I described private, tearful conversations with gay and lesbian students (especially lesbians) who felt ashamed of their sexuality after years of trauma. As one individual told me: "I spent twenty years believing I was an abomination for being gay. Now, I'm right back at square one. Am I not allowed to just be a homosexual?" I referenced the all-time low attendance of gay men and lesbians within the org. I was corrected, of course, with a reminder that trans lesbians were attending with increasing numbers.
The topic of lesbian members was particularly important to my manager. Near the end of the rainbow-tinted interrogation, they paused before asking me to clarify something.
"You've talked about this group not including trans lesbians."
"The club is for homosexuals," I carefully clarified.
"I don't understand. These women are trans. These women are lesbians. Why wouldn't they fit within your group?"
"My club is for homosexuals," I repeated, "Homosexuals are attracted to the same sex. Homosexuals are only compatible with someone of the same sex. That's the whole foundation of being a homosexual."
There was another pause.
"What do you mean by 'attracted to the same sex?'"
"My club is for homosexuals." The words had stuck in my throat as I said them. "Homosexuals are same-sex attracted; homosexuality is being exclusively compatible with the same sex." Every word dislodged like phlegm and left a bitter aftertaste when I left the building. Two years before my makeshift trial, I was busy scrubbing "homosexual" and "same-sex attracted" from my life. I replaced them. "I am gay, and that's okay." It was a hesitant, definite step towards healing. Growing up in the evangelical Midwest, my sexuality was anything but "okay." But that first statement, just embracing myself as gay, was particularly unthinkable years earlier.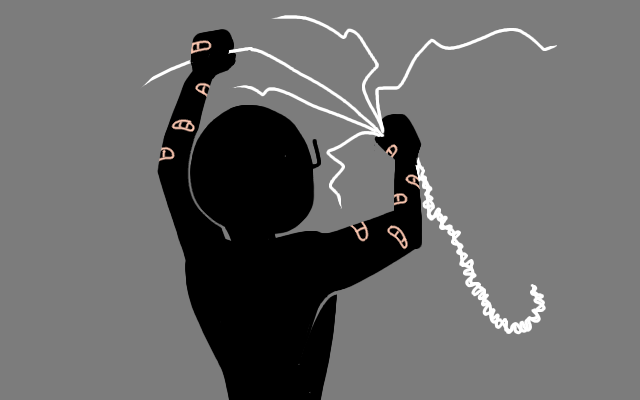 There is a linguistic nuance within many Christian circles differentiating "gay" and "homosexual." The rules were rarely written plainly, but they played out with painful clarity. To be gay meant an acceptance of one's broken sexual urges. Gay men did not have successful relationships. Gay men always cheated on their partners. Gay men died of AIDS. However, to be "homosexual" or simply "attracted to the same sex" implied a cold, clinical, holy distance. Homosexuals could have successful marriages (to the opposite sex). Homosexuals could live long, healthy, godly lives. Homosexuals could dedicate themselves to life-long celibacy. There could be a homosexual Christian. There could not be a gay Christian.
A rose may "smell as sweet" by any other name, but the language we use to discuss sexuality is often far more influential. "Same-sex attracted," "homosexual," and a litany of other phrases haunted my teenage mind as I desperately worked to cure my "unhealthy emotional mis-attachment." They were diagnoses of an inner-disfigurement, cold and factual. I could still live a moral life, as long as I wasn't "gay." Being gay meant loving your sinfulness. Being gay meant embracing your human brokenness. Gay men died of AIDS. So I wasn't gay. I was just "same sex attracted." I was a homosexual.
Then, I was gay.
I accepted my sexuality; I embraced and celebrated my love for men. I was gay and that was okay. I distanced myself from the clinical terms I'd flogged myself with throughout high school. There were plenty of words to describe who I was and who I loved. Losing one or two terms, caked with pain and soaked in past trauma, was one step towards self-love. So you can imagine the discomfort I felt, sitting in a trial of my peers, routinely forced to return to those old phrases again. My club wasn't for "gay men" or "lesbians." How could it be when "gay men" and "lesbians" are no longer necessarily homosexual? I wanted a group for people like me. I needed a group defending the exclusive compatibility for the same sex and denying that homosexuality was unresolved bigotry. It was not something to fix. It was not something to hide.
Tables turned as I desperately tried to defend my homosexuality among the people promising to provide a safe place for all members of the LGBTQIA community. I retreated to my closet, packed full of things I'd chosen to leave behind. A cardboard box, roughly shoved into the corner under the folding chairs, was dragged back into the living room. I poured the content onto the floor. "My club is for… homosexuals." A little polish here, swiping away the barely-settled dust. "My club is defined by… same-sex attraction."
I still don't like those words. I still bristle, deep down, when I drudge up the same terms I used to harm myself, now in a desperate attempt to defend myself. Simultaneously, part of me is thankful for the "outdated" language I rely on today. As terms like "gay" and "lesbian" are expanded to the point of breaking, what other option do I have? When a "gay man" may have enthusiastic sex with women, when "lesbians" like dick, when being "queer" means "queering PIV sex" (whatever that even means), what language do I have left? I am gay, but let me clarify: I am a homosexual.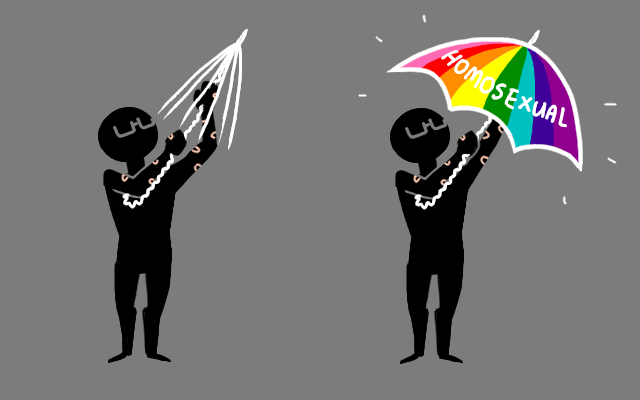 There are detractors, of course. I've been educated on the history of terms like "homosexual" by people who've never pinned the word to their chest and beat their face till their nose bled. What selfishness. What do I have left? When "gay men" can love pussy, when "lesbians" can have exceptions, when "queer" can mean heterosexual, what language do I have left? This is not a rhetorical question.
Thank God for those ugly words stuffed in the back of my linguistic closet. Thank God for those "outdated" words. Thank God for something. At least it's something. But even having something, anything to accurately describe my life as a homosexual, is too much — So says another passionate DM telling me the history of reparative therapy. They chastise me for ignorantly using language I clearly do not understand. I recognize a few names from their list of infamous conversion therapy experts; they aren't very good writers, in my experience. A few swipes away, a mobile ad for "queer yoga" encourages me to celebrate my identity with authenticity. The "#1 Queer Dating Site" offers 15% off this month's subscription, a Pride Month discount. My feed starts with #Queer, remembering the murder of Matthew Shepherd. I guess only some language can be reclaimed.